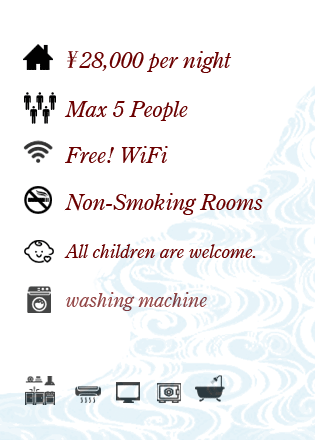 What is Tsumugi Inn?
We offer a private house located in Shimogyo-ku, Kyoto, that was renovated into a Kyoto-style townhouse called Kyo-Machiya for guests from abroad or in Japan as a Vacation Rental House.
Is it different from a Japanese-style inn or a hotel?
As the whole house is rented for 28,000 yen per night to accommodate up to 5 persons, you can use it according to your needs at a reasonable price. Spend time with your family, friends, or on business trips as if you lived in Kyoto. This house is available for staying for one night or more.
Do I need to know Japanese to communicate with the staff? What if I have children with me?
Our personnel who will wait on you have an excellent command of English. What if I have children with me? To make your stay as comfortable as possible, the personnel from Smile Link are available to provide bilingual(English) services to our guests from abroad. Childcare services are also available for an additional fee(Please ask staff or e-mail us for more information).
Facilities and equipment
With the facilities and equipment that are thoroughly focused on convenience and comfort, you can spend time at Tsumugi as if this house were your own.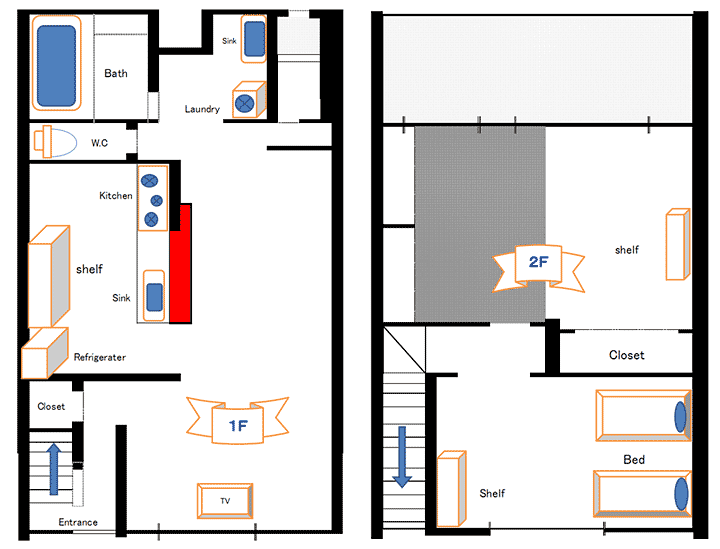 Business License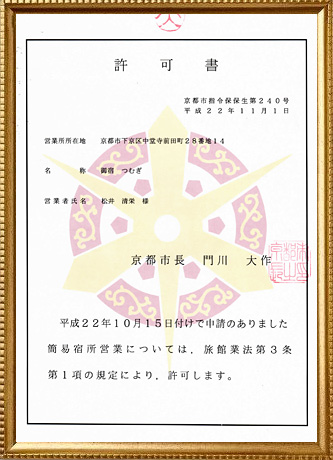 Business License
・License # : No.240
・Date of Registration : Nov.1.2010
・Business Location :
  28-14,Maeda-cho,Chudoji,
  Shimogyo-ku,Kyoto
・Name of Buisiness : Tsumugi Inn
・Issued by Mayor of Kyoto City,Daisaku Kadokawa
・Type of Business : Vacation Rental House.