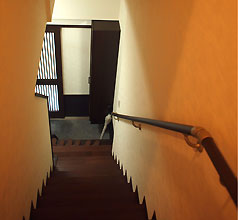 [2F: Equipment] Television and Air-conditioner
[1F: Equipment] Washing machine ( With dryer ), Refrigerator, microwave oven, IH built-in kitchen, electric water kettle, kotatsu (a Japanese foot warmer: in winter only), Dyson vacuum cleaner, electric fan, television, air conditioner, weighing machine, hairdryer, rice cooker, tableware, electric carpet, Internet access via the wireless LAN
[Amenities] Body soap, shampoo, hair-conditioner, towel, face towel
[Supplies] Various kinds of detergent
► Personal computers and the like are not available.
► At the time of check-in, we will set up as many cups of green tea and instant coffee as there are people.
► During your stay, we will set up as many bottle of drinking water ( 500ml), which guest can bring bottle a water while exploring city.
► A dressing gown for the season is offered in summer and winter.